Custom Jewelry Design Made Easy
Sometimes customers surprise us.
Take Nancy, for example. She's the kind of woman who knows what she wants–and is a jewelry hawk. For her 25th wedding anniversary, her husband said, "go pick out the diamond link bracelet style you like and we'll build it." But she wasn't going to have a piece that anyone could buy.
Turns out, she could design her own bracelet in a custom pattern using Start-to-Finish links.  She picked out the links she liked and played with arranging them on the counter until she was satisfied. This was the result: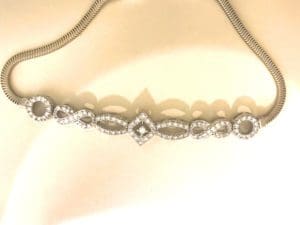 While we never intended link bracelets to be "designed" in this way, we're thrilled by the new possibilities!
This got us thinking . . . Our talented, experienced jewelers can create patterns of their own–either as a signature style for their stores or as "custom jewelry design" for their customers. For a more "hands-on" experience, they can sit down with their "Nancys" (and maybe a glass of bubbly) and let the customer be the designer.
To make custom jewelry design easy with Start-to-Finish, we recommend stocking at least 4-5 different links–so there are plenty to mix and match–with a few starter bracelets. If you already have bracelets in stock, you might want to think about which links would be great complements to what you have. You can check out all our styles on our site. (Note: All link sales are final.)
Better yet, use your existing inventory or supplement with links (remember: tubes go with tubes and foldovers go with foldovers, see below)
| Foldover Style | Tube Style |
| --- | --- |
| Abigail | Alexa |
| Amber | Bianca |
| Ava | Ashley |
| Courtney | Charlotte |
| Cameron | Celine |
| Demi | Danielle |
| Dominique | Haley |
| Elizabeth | Jessica |
| Emily | Lauren |
| Emma | Madeline |
| Grace | Lucille |
| Katherine | Madison |
| Lillian | Marilyn |
| Julia | Olivia |
| Megan | Rebecca |
| Roslyn | Sophia |
| Michelle | Tracy |
| Victoria | Felicia |